Saturday April 20th, it's Record Store Day and to mark the occasion I'm releasing a limited edition 7″.
I've been a vinyl collector since my teens spending hours and hours going through second hand records looking for rarities so I'm really happy to be participating in encouraging people to get down and support their local independent record store! So this saturday don't forget it's Record Store Day / Disquaire Day !
If you didn't had a chance to get it in a record store, you can now buy the 7″ online, just click on the link below to order it:
Buy YOU NEVER LEFT / ROBOT THEME 7″ (limited edition of 300 / 6.50€)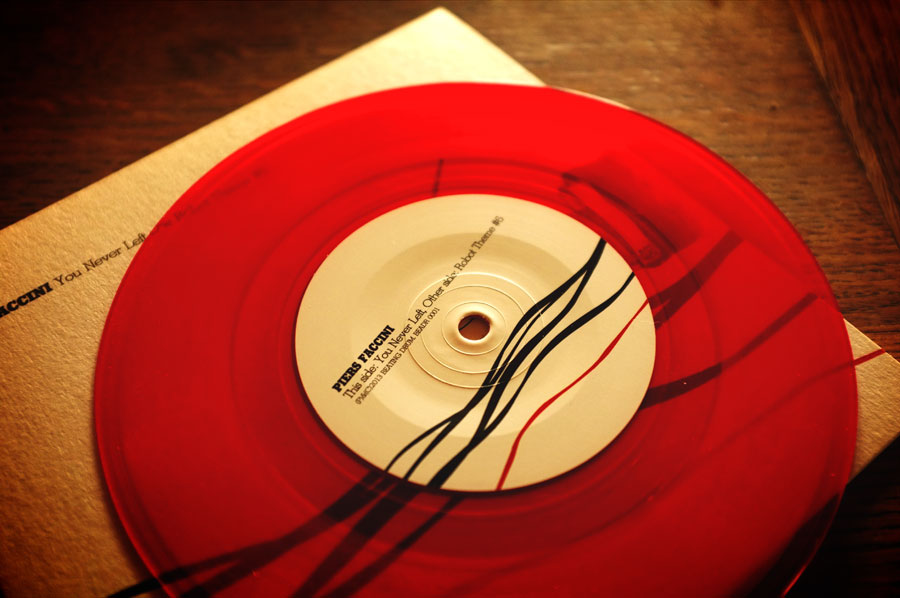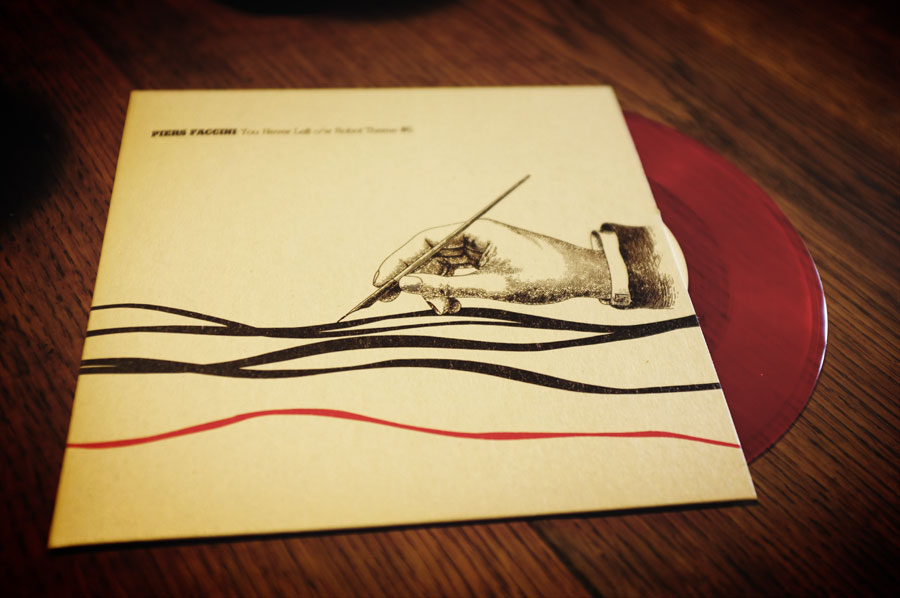 'You Never Left' on side A is  very much in the same feel as the collection of songs on new album which will be out in a few months. Since I recorded 'Two grains of sand' in 2008  I'd been wanting to record a whole album of intimate songs and ballads, finding myself a free agent in 2012, I was finally able to put all my energy into making this project come to life by starting up my own label Beating Drum. I recorded almost all of the album by myself apart from a few days when I was joined by bassist Jules Bikoko and cellist and singer Dom la Nena. This 7" vinyl is the first release on Beating Drum. The song 'You Never Left' isn't on the album but it offers a little taste of things to come.
'Robot Theme #6' on side B is an instrumental track from a soundtrack I wrote for the film 'A world without humans' by Philippe Borrel. I've been writing soundtracks since the late nineties mostly for documentaries and occasionally for fiction both for the BBC and Channel 4 in the U.K. I enjoy writing instrumental music although it's a very different proposition to writing songs and this release for Record Store Day seemed a great opportunity to publish one of these more unusual tracks.
WHERE TO FIND THE 7″ ?
PARIS
Analog Collector
Atout Livre
Calif de Belleville
Fabrique Balades Sonores
Fargo
Gibert
Ground Zero
Hands and Arms
Nationale 7
ALES
Confiseur Musical
AMIENS
Malle à Disques
BORDEAUX
Librairie Mollat
Total Heaven
BREST
Dialogues Musiques
BRUXELLES
Cook and Book
CHALON
Gibert
FLORAC
4e Dimension
LE MANS
Allumés du Jazz
LILLE
Minor Place Records
LYON
Dangerhouse
Gibert
Kraspek Myzik
Sofa Disques
MARSEILLE
Lollipop
MONS EN BAROEUL
Collectors Boutique
NANTES
Mélomane
NICE
Sonic Import
POITIERS
Plexus Records
QUIMPER
Librairie Ravy
ST BRIEUC
Le Disquaire
ST LO
Planet R
STRASBOURG
33 and Co
TOULOUSE
Croc Vinyl
Gibert
TOURS
Baromètre
Madison
VANNES
Librairie Cheminant
VAULX EN VELIN
Gibert
VENDOME
Figures Libres